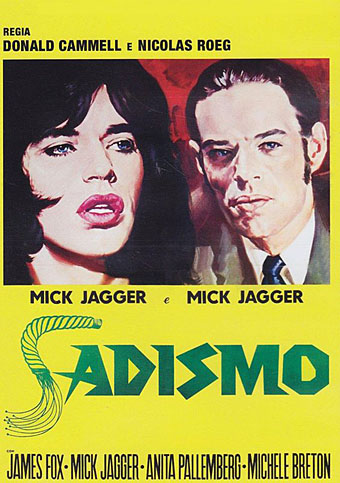 Cammell & Roeg's Performance (1970) was marketed in Italy with all the restraint for which the Italian film industry has long been celebrated.
• "To the good men I offer the hand of friendship, to the foes of our sex I offer resistance and annihilation!" We Women Have no Fatherland (1899), a novel by Ilse Frapan, is the latest title from Rixdorf Editions.
• More Edward Gorey: Mark Derey discusses his biography on the Virtual Memories Show podcast. Related: Edward Gorey's Calling Cards, a spoiler-heavy investigation.
• "It starts how most horror films end, and it just keeps building and building, crescendo on crescendo…" Ben Cobb on the original (and, for me, only) Suspiria.
• The next compilation release from the excellent Light In The Attic label will be Kankyo Ongaku: Japanese Ambient, Environmental & New Age Music 1980–1990.
• Saint Flournoy Lobos-Logos and the Eastern Europe Fetus Taxing Japan Brides in West Coast Places Sucking Alabama Air (1970) is a short film by Will Hindle.
• Film producer Sandy Lieberson and author Jay Glennie on Donald Cammell & Nicolas Roeg's Performance.
• "Wes Anderson's offbeat debut as a curator drove a storied museum's staff crazy. The results are enchanting."
• Above Water, Inside, a video by James Ginzburg from his recent album, Six Correlations.
• For the LRB Podcast: Iain Sinclair and Patrick Wright discuss living with buildings.
• Not necessarily the best ambient and space music of 2018: a list by Dave Maier.
• "The net is not a good guide to book prices," says Mark Valentine.
• David Bennun on 30 years of the Pet Shop Boys' Introspective.
• Mix of the week: XLR8R Podcast 568 by Young Marco.
• At Dennis Cooper's: Chris Marker Day.
• Introspection Pt. 1 (1969) by The End | Introspection (1984) by Minimal Compact | Intro-Spectiv (1996) by Chris & Cosey