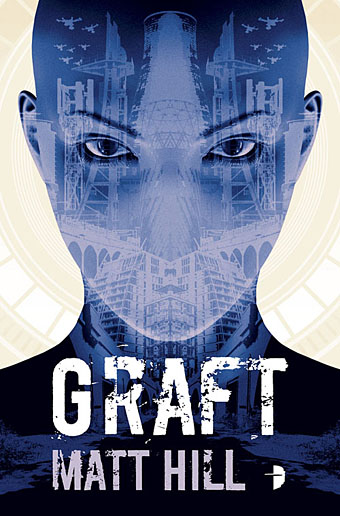 UK edition.
This latest cover design has been made public much sooner than some of the other things I've been working on this year. Graft is another cover for Angry Robot, a novel set in near-future Manchester by local author Matt Hill. The title plays on the multiple meanings of the word "graft", not only the colloquial term for work (honest or otherwise) but also the sense of a medical graft. Once again, Barnes & Noble have provided a convenient précis:
Manchester, 2025. Local mechanic Sol steals old vehicles to meet the demand for spares. But when Sol's partner impulsively jacks a luxury model, Sol finds himself caught up in a nightmarish trans-dimensional human trafficking conspiracy.

Hidden in the stolen car is a voiceless, three-armed woman called Y. She's had her memory removed and undertaken a harrowing journey into a world she only vaguely recognises. And someone waiting in the UK expects her delivery at all costs.

Now Sol and Y are on the run from both Y's traffickers and the organization's faithful products. With the help of a dangerous triggerman and Sol's ex, they must uncover the true, terrifying extent of the trafficking operation, or it's all over.

Not that there was much hope to start with.

A novel about the horror of exploitation and the weight of love, Graft imagines a country in which too many people are only worth what's on their price tag.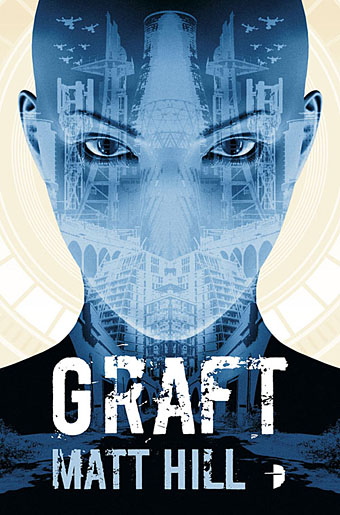 US edition.
The challenge with this one was to create something that might be read as futuristic yet also included elements of the real Manchester. All the buildings are worked up from photos of my own, many of them taken during a long day out spent wandering around the Cornbrook area and Salford Quays. The latter has been extensively redeveloped in recent years so there's a lot of new architecture out there, including the new BBC headquarters. The elegant pylons are the supports of the Lowry Bridge which can be raised to allow ships into the docks.
I couldn't settle on a final colour scheme for this one so I made a number of variations then let author and publisher decide. This resulted in three covers: the UK edition, US edition and e-book. It took a while but I think I'm happiest now with the blue-and-purple version. Matt Hill talks about Graft here.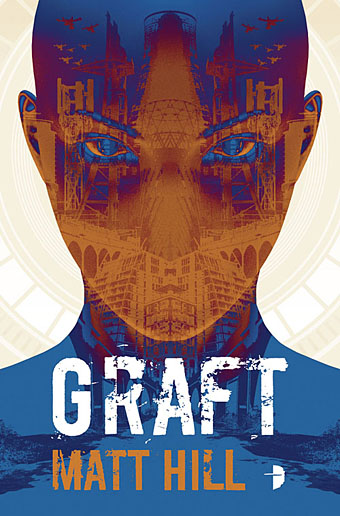 E-book.