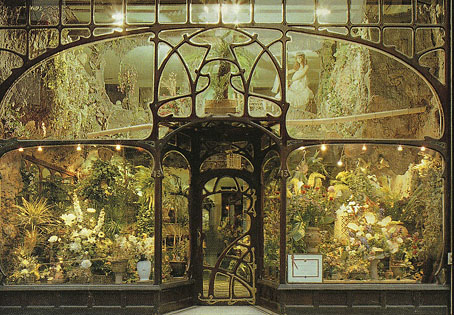 Spotted at Beautiful Century, this scan of a postcard showing the flower shop which now occupies what was originally the Chemiserie Niguet in Brussels. The shop is in the Rue Royale, and the Art Nouveau storefront was installed in 1896 from a design by Belgian architect Paul Hankar (1859–1901). Considering this is one of Hankar's few Art Nouveau designs to have survived the depredations of "Brusselization" I was surprised that the only illustration in any of my books was the early plan below. (In fairness, Victor Horta tends to dominate any general discussion of Belgian Art Nouveau architecture.)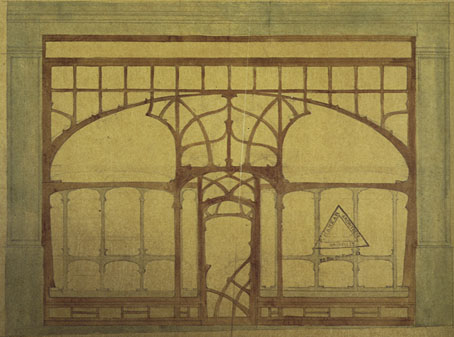 Magasin Niguet (1896).
Searching for the shop as it is today on Google Maps reveals the view below. Shame about the camera catching the rubbish awaiting collection. The bland 20th-century facades surrounding the storefront make its presence an incongruous one but at least it's survived, unlike this Parisian establishment.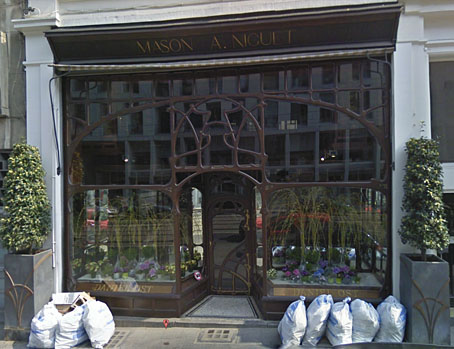 Previously on { feuilleton }
• Rue St. Augustin, then and now
• Hector Guimard elevations
• Infernal entrances
• Hector Guimard sketches
• Temples for Future Religions by François Garas
• Elizabetes Iela 10b, Riga
• Atelier Elvira
• Louis Bonnier's exposition dreams
• The Maison Lavirotte
• The House with Chimaeras