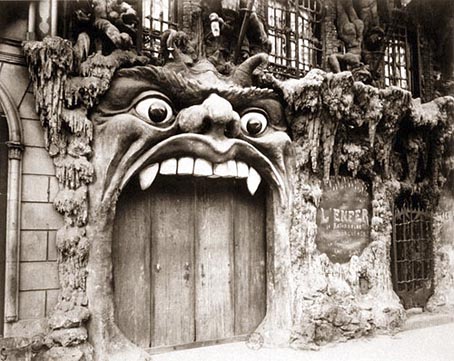 L'Enfer, Boulevard de Clichy (1911).
A recent posting at The Haunted Lamp showed the interior of L'Enfer, a Montmartre cabaret which described itself as "unique au monde", pictured here in a memorable photo by Eugène Atget. The interior and portions of the exterior were certainly unique enough, and look like they were created by the same people who designed the carnival show for Harry Lachman's film Dante's Inferno (1935), but the yawning mouth as an entrance isn't without precedent. Some prior examples follow.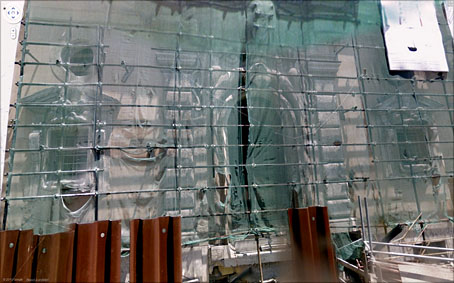 Palazzo Zuccari.
L'Enfer is long gone, unfortunately, but the entrance to the Palazzo Zuccari in the Via Gregoriana, Rome, is still extant despite being hundreds of years older. I was hoping that Google's Street View would have some good pictures but they managed to capture the building in the midst of renovation. A friend of mine was working at an office in this street when I was in Rome in 1993 and the yawning mouths and windows are a very curious sight in a narrow road near the Spanish Steps. Flickr has better views, here, here and here.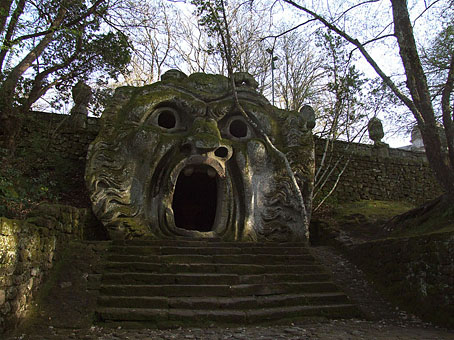 Ogre, Parco dei Mostri.
The Rome palazzo is named after the Mannerist artist who lived there, Federico Zuccari (c. 1542/1543–1609), and Zuccari's inspiration for his doorway came from another Mannerist creation, the Parco dei Mostri at Bomarzo. The mouth in this case isn't an entrance to the underworld but a devouring ogre, and one of the park's many grotesque attractions. I wonder if this was also an inspiration for the giant floating head in John Boorman's ludicrous science fiction film, Zardoz (1974).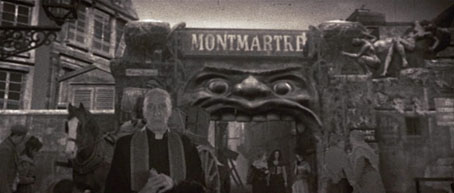 Moulin Rouge!
And speaking of films, Baz Luhrmann used the L'Enfer entrance as a gateway to Montmartre itself in the zooming shot which opens Moulin Rouge!. I like that idea, as though it's an iniquitous equivalent of the old Temple Bar gateway to the City of London. For more pictures of L'Enfer, and details of its history, see here and here. If anyone knows of any other notable doorways like these, please leave a comment.
Update: Nathalie found another Bomarzo influence while Jescie on Twitter drew my attention to a set from this German film.
Previously on { feuilleton }
• Villa d'Este
• Harry Lachman's Inferno
• Atget's Paris