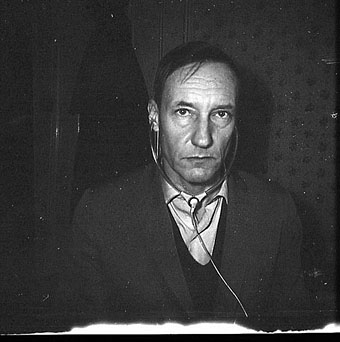 Interzone is a selection of William Burroughs recordings mixed with electronic music and other pieces such as extracts from Howard Shore & Ornette Coleman's Naked Lunch soundtrack:
A tribute to 'El Hombre Invisible'. It features some of my favourite readings, to which I've added music by John Zorn (from his Burroughs-inspired work), Tod Dockstader, Arne Nordheim and others. Also in the mix are radio recordings and vocal cut-ups by the man himself.
The curator is Mixcloud user Timewriter, one of whose mixes I linked to last Halloween. I was surprised to find I'd already downloaded the Burroughs mix from the Timewriter blog, Include Me Out, but hadn't managed to listen to it. Better late than never. This week seems a good time to draw attention to both the mix and that blog in general which features among its posts a quantity of Burroughs-related ephemera. Many of the mix readings are from the albums of Burroughs' tape recordings from the 1960s, including Nothing Here Now But The Recordings, the collection of tape experiments released by Industrial Records in 1981. The latter is essential listening for anyone who appreciates Burroughs' early novels; some of its pieces such as Last Words of Hassan Sabbah sound less like readings of the author's work than actual artefacts from the books themselves.
Previously on { feuilleton }
• Sine Fiction
• The Ticket That Exploded: An Ongoing Opera
• Burroughs: The Movie revisited
• Zimbu Xolotl Time
• Ah Pook Is Here
• Jarek Piotrowski's Soft Machine
• Looking for the Wild Boys
• Wroblewski covers Burroughs
• Mugwump jism
• Brion Gysin's walk, 1966
• Burroughs in Paris
• William Burroughs interviews
• Soft machines
• Burroughs: The Movie
• William S Burroughs: A Man Within
• The Final Academy
• William Burroughs book covers
• Towers Open Fire