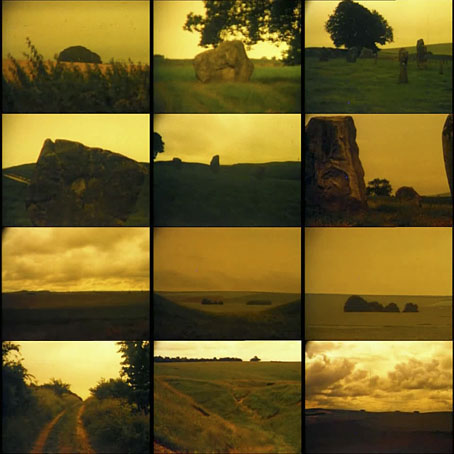 Among the Doublevision video releases I was writing about earlier this month there's a notable omission from those which have been reissued on DVD: Derek Jarman's In the Shadow of the Sun was the seventh release on the label, the 1980 version of a film which was compiled in 1974 using footage from his earlier Super-8 shorts, one of which was A Journey to Avebury (1971). Several of the short films have appeared as extras on recent DVDs but the gorgeously oneiric In the Shadow of the Sun remains stubbornly unavailable.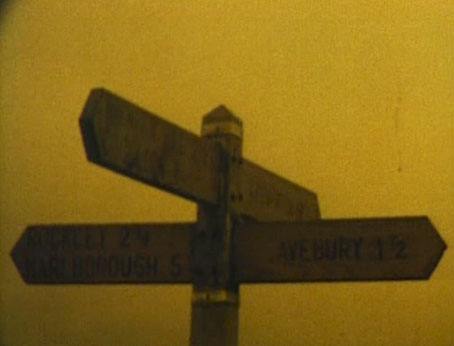 A Journey to Avebury lasts for ten minutes, and in its original state was nothing more than silent, static shots of fields, pathways (putative ley lines, perhaps), silhouetted trees, and finally the Avebury stones. I still find it one of the most fascinating of his short films. The yellow filter gives all the shots an oppressive, sulphurous cast which turns the otherwise bucolic landscape into a place of imminent (or even post-) apocalypse. I'm reminded of the yellow skies in Charles Platt's erotic nightmare The Gas (1970), or some of the outdoor shots in Penda's Fen (1974) which are equally suffused with menace.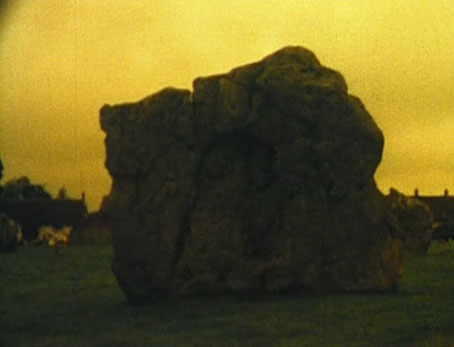 The copy of A Journey to Avebury that's currently on YouTube is a recent version with an uncredited electronic score. I still don't know who did the music; it doesn't sound like Coil. Cyclobe? (It's Coil.) The YouTube version can be found in far better quality on the Second Sight DVD of Jarman's The Last of England.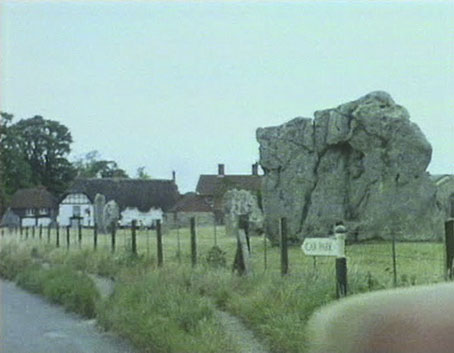 And just to show how everything here is connected to everything else, that brooding megalith above (known locally as "The Devil's Seat") can be seen in at least one shot in Children of the Stones. No surprise there but the shot also reveals the place where Jarman and co. would have been standing five years earlier.
Previously on { feuilleton }
• Children of the Stones
• Avebury panoramas
• Derek Jarman's music videos
• Derek Jarman's Neutron
• Mister Jarman, Mister Moore and Doctor Dee
• The Tempest illustrated
• Penda's Fen by David Rudkin
• In the Shadow of the Sun by Derek Jarman
• Derek Jarman at the Serpentine
• The Angelic Conversation
• The life and work of Derek Jarman