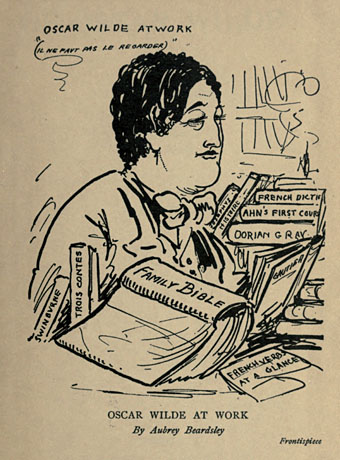 Continuing an occasional series. The drawing above is frequently credited to Aubrey Beardsley in books about Oscar Wilde but receives an "anonymous" attribution in books of Beardsley's work. The copy here, and the pages below, are from Bibliography of Oscar Wilde (1914) by Stuart Mason.
• Last November it was announced that Wilde's lipstick-blotched tomb in Père Lachaise cemetery is to be cleaned (again) then shielded from the persistent kissers and graffiti writers by a glass screen. Flickr has a collection of photos showing the earlier condition of the tomb and its embellishments.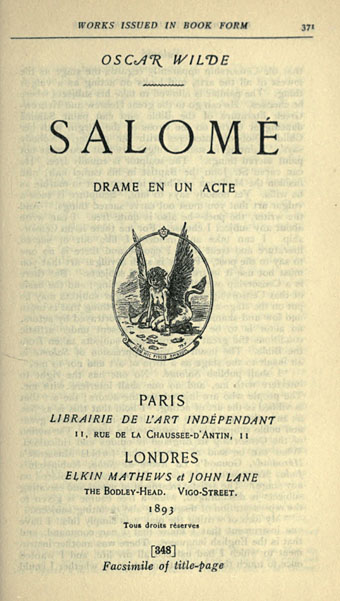 • Maria Bustillos in The Vexed Posthumous Life of Oscar Wilde chronicles the story of the blue plaque on Wilde's former home in Tite Street, London.
• "A hundred and twenty five years ago, Oscar Wilde edited a fashion magazine, his first and only office job. We have yet to learn from the experience." Wilde in the Office by Kaya Genç.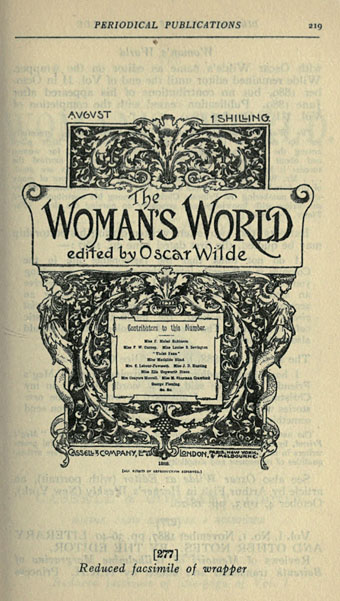 Elsewhere on { feuilleton }
• The Oscar Wilde archive