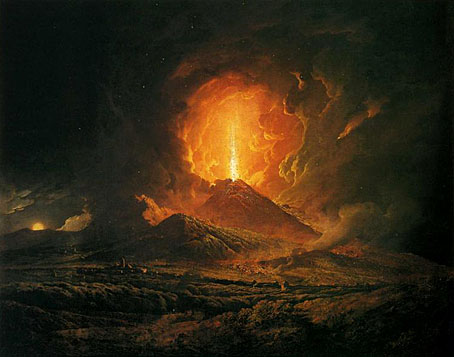 An Eruption of Vesuvius, Seen from Portici (c.1774–6) by Joseph Wright of Derby.
Joseph Wright of Derby captured the eruptions of Vesuvius in several pictures of which this is one of the more spectacular examples. The painter enjoyed spectacle as he also the rendering of chiaroscuro effects so it's no wonder he was attracted to an apocalyptic night view such as this. Wright is one of the artists featured in a new exhibition at Compton Verney in Warwickshire, Volcano: Turner to Warhol, which presents the depiction of volcanoes in art through the ages.
The exhibition ranges from early engravings, showing imagined cross-sections of the fiery centre of the earth, to an explosive series of paintings by Joseph Wright, JMW Turner and Andy Warhol. It is a chance to examine the presence of volcanoes as geological phenomena and their power and influence, through an exciting range of historic and recent works of art. (More.)
The gallery site doesn't have a complete list of the featured works but there's some additional detail in a Telegraph preview from a couple of months ago. Volcano: Turner to Warhol opens on July 24th and runs to October 31st, 2010.
Previously on { feuilleton }
• Chiaroscuro II: Joseph Wright of Derby, 1734–1797
• Chiaroscuro
• Shadows at Compton Verney
• Death from above
• The apocalyptic art of Francis Danby