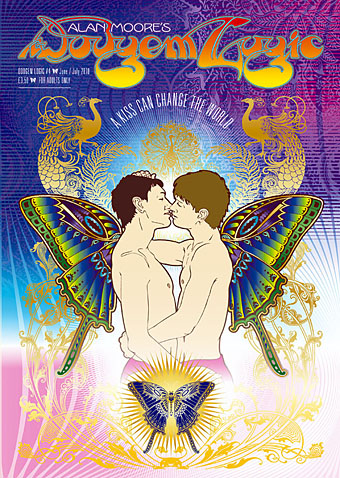 The magazine isn't out for another couple of weeks but my cover art has been posted to various websites so I can finally show this here. Alan Moore was in touch at the beginning of February asking for a wraparound cover design, the only brief being that he liked my Alice in Wonderland calendar and asked for something equally florid or—for want of a better term—psychedelic. Alan's magazine owes something to the underground mags of the 1960s and a common feature of those, especially Oz magazine, was a degree of provocation in the choice of cover art. A picture of two boys kissing is nothing more than a show of affection yet to many people the sight still inspires enormous outrage. This was demonstrated a week or so after I'd finished the cover when the Washington Post was deluged by angry letters and emails after they showed a photo of two newly-weds outside the Washington DC Superior Court. People used to have a similar reaction to the sight of a black man kissing a white woman; the only way attitudes change is when something becomes so commonplace it's no longer worthy of note.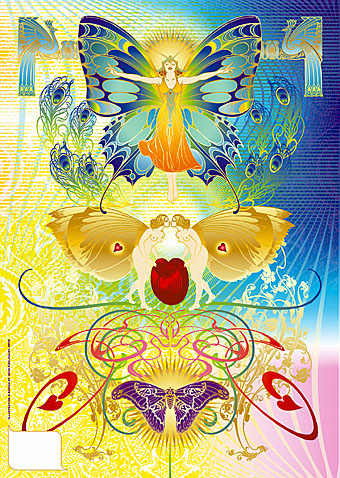 Aside from the politics, this was also an excuse to run riot with more Art Nouveau motifs, especially peacocks and butterflies. The butterfly-winged boys are a nod to the paintings of Yannis Tsarouchis, and this in turn gave me an excuse to borrow from another magazine cover, Frank X Leyendecker's 1922 painting of The Flapper for Life. Frank X was the brother of the more renowned illustrator JC Leyendecker. Joseph C was known to have been discreetly homosexual; so too was brother Frank according to this article in which case his butterfly woman has an additional resonance.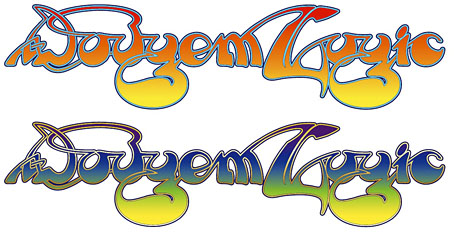 Having written a lengthy polemic about Roger Dean's work in January I had the idea of doing the magazine title in his lettering style. I spent the best part of two days working on these as I wanted the result to be as accurate as possible. All the gold parts of the cover shown here are gradients but I made a slightly different version for print which will render those areas in gold ink. I'm looking forward to seeing this printed.
Previously on { feuilleton }
• Roger Dean: artist and designer
• The art of Yannis Tsarouchis, 1910–1989
• Dodgem Logic
• Psychedelic Wonderland: the 2010 calendar
• Butterfly women