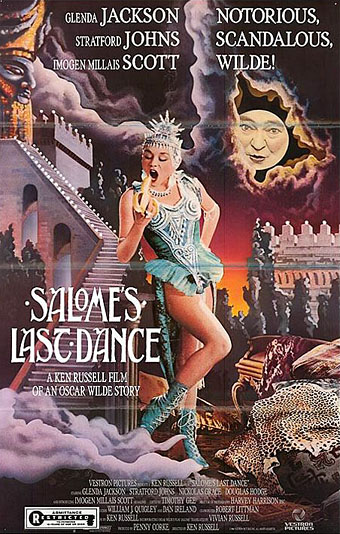 More Wildeana. It's taken me over two decades to watch this film, and while I can't really say it was worth the wait it was more entertaining than I expected. Salome's Last Dance was directed in 1988 by Ken Russell and is his own typically mannered adaptation of the Wilde play. It appeared around the same time as his adaptation of another Victorian work, Bram Stoker's The Lair of the White Worm, and it was the latter film which caused me to lose my patience with Russell's excesses and so ignore this one. In Salome's Last Dance we have Oscar Wilde and Lord Alfred Douglas visiting Alfred Taylor's London brothel one night in 1892 where Taylor and company stage a performance of Wilde's banned play.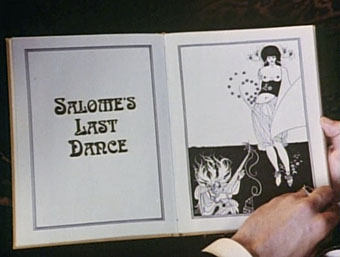 Aubrey Beardsley's illustrations appear in the title sequence.
If you're a Wilde enthusiast there are at least two ways you may take this; you can be appalled by Russell's "translation" of Wilde's words (Salomé was written in French then translated for English publication in 1894; there's no reason to re-translate a version the author approved), a translation which is really more of an adaptation, with much of the poetic monologue removed and the tone lowered for a general audience—Wilde's "Iokannen" is vulgarised to "John the Baptist" throughout. Or you can try and enjoy what is at least a complete performance of the play, even though it more often resembles Carry On Salomé than anything one might have expected Sarah Bernhardt to perform. Injecting a Symbolist drama with slapstick and grotesquery is probably inevitable given the director (Russell is also co-writer and he plays—badly—the role of the Cappadocian). I found it impossible to decide whether Russell was sending up the play because he found it too pompous or whether he felt that an audience wouldn't sit still for it otherwise. Whatever his intention, the premise is intriguing enough to inspire speculation as to how it might have been treated by other hands.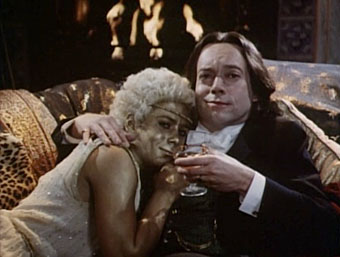 Oscar Wilde (Nickolas Grace) and friend.
Of the actors Stratford Johns as Taylor/Herod stands out for a delivery which goes beyond mere caricature and gives some life to the words. Glenda Jackson, in one of her last roles before she became an MP, seems to send herself up, while Imogen Millais-Scott as Salomé is a peculiar minx whose androgynous quality pays off during the Dance of the Seven Veils. Nickolas Grace's performance is a vague sketch of Wilde, he doesn't really look the part and Wilde's character is reduced by the script to a succession of quips. Douglas Hodge as Lord Alfred/John the Baptist looks nothing at all like Wilde's boyfriend; he's too tall and his dark hair may be necessary for playing John the Baptist but the real Bosie was blond.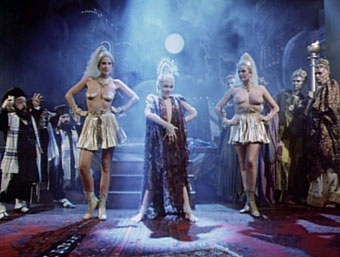 The Dance of the Seven Veils.
And yet… I still found the film enjoyable on the whole. Perhaps it's because there's a sense all the time of Wilde's play struggling to break free; in some of the close shots and monologues you have a sense of the real power a decent performance might have. There are also resonances with other works if you care to look for them; Derek Jarman worked as set designer for Ken Russell on The Devils (1971) and Savage Messiah (1972) and later made his own film about a Christian martyr, Sebastiane (1976). The prologue of that film features Lindsay Kemp performing an obscene dance for the Emperor's court, and it was Kemp who directed one of the notable Salomés of recent times. In his 1977 production at the Roundhouse, London, he took the title role and also stripped naked at the end, prefiguring Russell's switch here. Nickolas Grace's performance has its precursor in his role as stuttering invert Anthony Blanche for the TV adaptation of Brideshead Revisited (1981).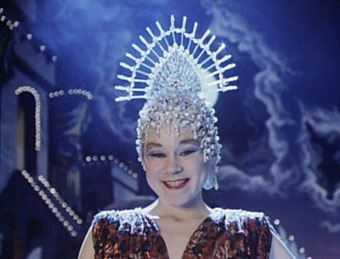 Imogen Millais-Scott.
Salome's Last Dance is currently unavailable on DVD unless you want to pay a large amount of money for a secondhand copy. Lindsay Kemp's queer-as-fuck adaptation was probably closest in contemporary terms to the scandalous power of the original but we don't have a film of that, unfortunately. This leaves us with Stephen Berkoff's acclaimed Royal National Theatre production which was filmed in 1992. Berkoff's staging is available on DVD, and looks excellent. Another one for the shopping list.
Elsewhere on { feuilleton }
• The Salomé archive