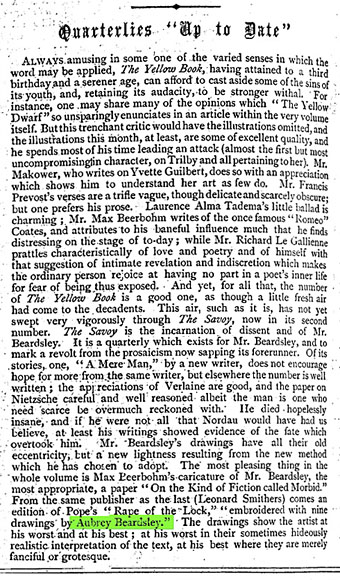 Thus the judgement of a reviewer examining Aubrey Beardsley's work in The Graphic for May 23, 1896. The work in question was Beardsley's Rape of the Lock illustrations being unveiled for the first time in the second number of The Savoy, the magazine which Beardsley co-founded with Arthur Symons and Leonard Smithers as a rival to the staid Yellow Book, also reviewed in the same column. Beardsley's illustrations for Pope are now considered some of his very finest works and it's difficult from our perspective to find any grotesquery there at all. It may be a reference to The Cave of Spleen, a drawing which saw the brief return of Beardsley's earlier foetus creatures and a work to which some of Harry Clarke's style would seem to owe a debt. In which case the reviewer should have been grateful to be spared the giant phalluses of The Lysistrata which Aubrey was also drawing for Smithers at this time.
The column above is one of many mentions of Beardsley and company to be found at the British Library's new online archive of 19th century British newspapers. What might be a treasure trove is compromised slightly for me by being a collection of newspapers only, rather than magazines. A magazine database would give us all of The Savoy and The Yellow Book, as well as other titles which featured the work of fin de siècle illustrators. Patience is the key here, with every passing year more of the past becomes easily accessible.
So now, given the quantity of references there's likely to be, dare I search for Oscar Wilde?
Previously on { feuilleton }
• Aubrey Beardsley's musical afterlife
• Aubrey by John Selwyn Gilbert
• Beardsley's Salomé
• "Weirdsley Daubery": Beardsley and Punch
• Alla Nazimova's Salomé