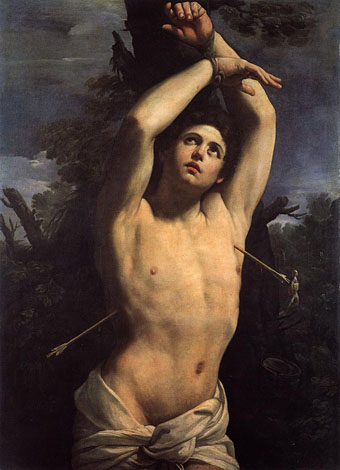 Saint Sebastian by Guido Reni (c. 1616).
The Agony and the Ecstasy is an exhibition at the Dulwich Picture Gallery, London, based around Guido Reni's paintings of the martyr, six of which are on display.
This will be a once-in-a-lifetime opportunity to compare directly the six masterpieces which are coming from all over the world to join the St Sebastian owned by Dulwich Picture Gallery. The paintings are coming from New Zealand, South America, Madrid, Genoa and Rome.
The claim for masterpieces is stretching the truth when art experts apparently believe that only two of the martyr paintings credited to Reni are original—the Genoa picture above and the Dulwich's own version—the rest being later copies. The Genoa version became a favourite of Oscar Wilde and it was a Sebastian by Guido Reni that also excited the illicit passion of the 12 year-old protagonist in Yukio Mishima's novel Confessions of a Mask. Wilde used the name Sebastian when he went into exile in Paris but he never took his identification with the saint as far as Mishima who adopted the typical pose in the famous photo taken shortly before the writer's suicide. Wilde had no need of borrowed martyrdoms, his own was more than enough.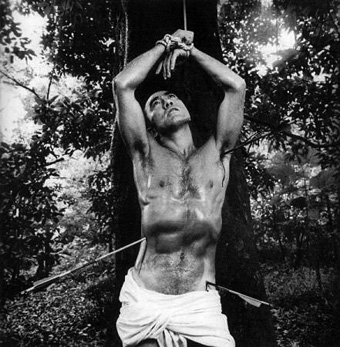 Yukio Mishima (1970).
The Agony and the Ecstasy runs until 11 May 2008. For further images of Saint Sebastian, this site is as comprehensive as it gets.
Elsewhere on { feuilleton }
• The gay artists archive
Previously on { feuilleton }
• Dorian Gray revisited
• Beardsley's Salomé
• The art of Takato Yamamoto
• Alla Nazimova's Salomé
• Fred Holland Day
• The Poet and the Pope
• The Picture of Dorian Gray I & II