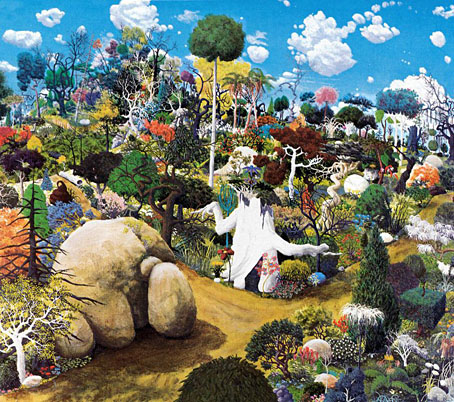 Mescaline Woods (1969) by Gage Taylor.
Continuing an occasional series about artworks in feature films. This is more of a trivial example than the epic study of Providence but it seems worth mentioning when the art and the film in question aren't so familiar.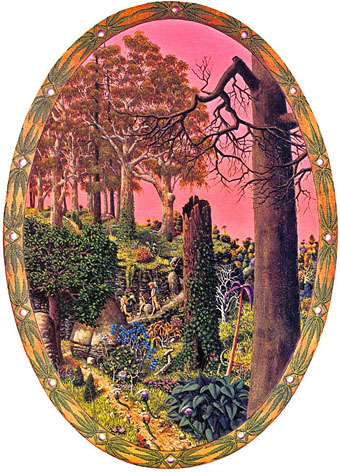 Encounter (1971) by Gage Taylor.
Last week my friend Jay Babcock was asking on his Substack newsletter for other examples of the utopian hippy landscape art that flourished in the 1970s. I recommended the paintings of Gage Taylor (1942–2000), an artist who was part of the loose movement known as the Californian Visionaries during that decade; paintings by the group were showcased in the Visions book published by Pomegranate in 1977, and shortly thereafter could be found in the early issues of OMNI magazine. Taylor was a prime exponent of slightly fantastic, idealised landscapes with titles like Mescaline Woods, painted in a style which, for the most part, he managed to prevent from becoming too saccharine. Encounter is a typical example: a quartet of naked hippies wandering through an Arcadian scene bordered by decorative cannabis leaves. The painting is definitely utopian in asking us to accept a clothes-free hike along a trail with no concern for sharp stones or injurious plants and animals.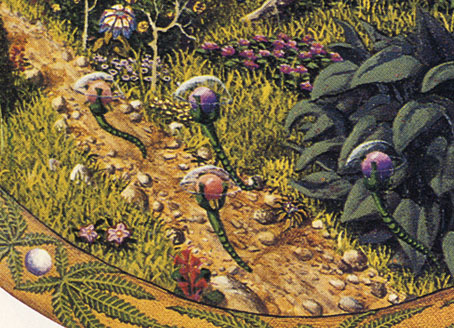 Looking through Visions again, and at this painting in particular, I was struck by the foreground group of floating alien creatures which I belatedly realised are the origin of the aliens from the opening scenes of Space is the Place (1974), the Sun Ra feature film directed by John Coney. And after watching those scenes again, details from Taylor's paintings (including Mescaline Woods) turn up as brief establishing shots of the planet where Sun Ra has landed his spacecraft, something I'd missed entirely. Taylor is credited as one of the set decorators so I'd guess he made the alien creatures himself. I'd have been happy with more of the cosmic weirdness and less of the Blaxploitation clichés that pad out the later scenes but with films as unlikely as this we have to be thankful they exist at all. At its best Space is the Place approaches the delirium of The Holy Mountain, albeit on a much lower budget; Sun Ra and the villainous Overseer even play a game to decide the fate of the Earth using a unique pack of Tarot cards.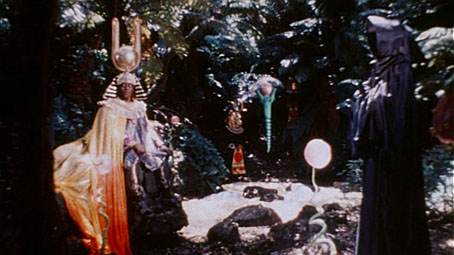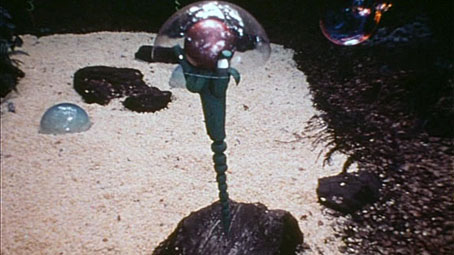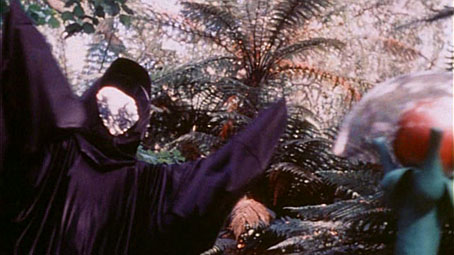 Another more obvious external reference in the opening scenes is the cowled and mirror-faced individual that Sun Ra talks to, a figure taken from Maya Deren's Meshes of the Afternoon. Deren's film in 1974 wasn't the cult item that it is today so this is an opportunistic swipe on the part of the film-makers, but the borrowing allows us to regard Mirror-face as the same character in both films. Watch them together.
Previously on { feuilleton }
• Art on film: Providence
• Art on film: The Beast
• Meshes of the Afternoon by Maya Deren