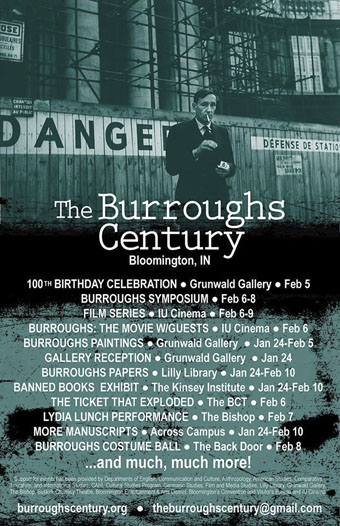 By the end of this year (maybe sooner) we'll all be heartily sick of hearing about the centenary of the First World War, so it's good to have some positive anniversaries from 1914 to celebrate. I mentioned yesterday that Sun Ra's centenary falls this year; next month there's a celebration in Bloomington, Indiana of the birth of William Burroughs:
In celebration of his 100th birthday this February, Bloomington has developed a festival in his honor, knowing his influence throughout America, and our own everyday lives. We are calling this event the Burroughs Century, but we are not looking backward; rather, we believe that the Burroughs Century is ongoing, that we are in the midst of it, and we intend to stage an event that indicates the full range of that continuing influence, including a film series, art and literature exhibits, speakers and panels, musical performances, and more.
Burroughs' manuscripts, correspondence and paintings will be on display, James Ilgenfritz's opera based on The Ticket that Exploded will be performed, and there will also be a screening of Howard Brookner's definitive film portrait of the author, Burroughs: The Movie, which receives a long-awaited reissue later this year. For those of us who can't make it to Bloomington it's worth keeping an eye on the slowly expanding Burroughs pages at Ubuweb. These now include PDFs of out-of-print books, more films, and a lot more audio material. Expect more Burroughsiana on this site between now and February 5th.
Previously on { feuilleton }
• Interzone: A William Burroughs Mix
• Sine Fiction
• The Ticket That Exploded: An Ongoing Opera
• Burroughs: The Movie revisited
• Zimbu Xolotl Time
• Ah Pook Is Here
• Jarek Piotrowski's Soft Machine
• Looking for the Wild Boys
• Wroblewski covers Burroughs
• Mugwump jism
• Brion Gysin's walk, 1966
• Burroughs in Paris
• William Burroughs interviews
• Soft machines
• Burroughs: The Movie
• William S Burroughs: A Man Within
• The Final Academy
• William Burroughs book covers
• Towers Open Fire