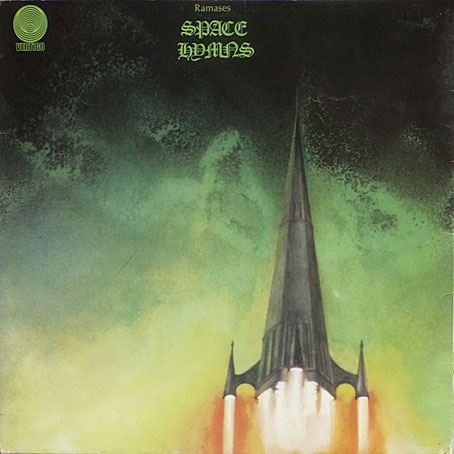 Roger Dean's album cover art extends further than his sleeve illustrations for Yes. His earlier designs for the Vertigo label showed his visual invention to good effect, and a couple of those designs have had their imitators. The cover art for Dedicated To You, But You Weren't Listening by the Keith Tippett Group is one that I've seen copied although I forget where for the moment so you'll have to take this on trust. (Ahem.)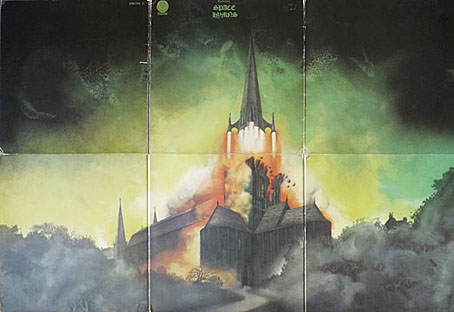 The church steeple blasting off from Space Hymns (1971) by Ramases is borrowed somewhat crudely in a 2011 ad for the Wien Museum which shows Vienna's St Stephen's cathedral undergoing a similar transformation. The Ramases idea is so eye-catching I'm surprised I've not seen it imitated before, although it wasn't Dean's invention; in his Views book he says that it was the group's idea, and they gave him a thorough brief. I presume by this he means that they also wanted the spire as a cover detail, and looking sufficiently rocket-like to give a surprise when the sleeve is opened.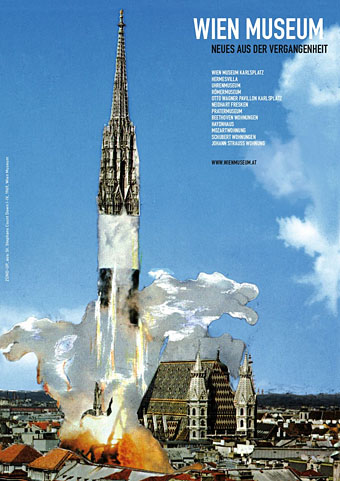 "Ramases" was Martin Raphael Barrington Frost, an Egypt-obsessed British musician who recorded two albums and a single with wife, "Selket". The single B-side, Mind's Eye (1968), is a decent piece of psychedelia that turns up on compilations. The same can't be said for Space Hymns, unfortunately; the presence of 10cc as backing band isn't enough to rescue songs whose cosmic titles offer more than they deliver. But that's still a great sleeve. Thanks to @weird_prophet for the Wien tip!
Elsewhere on { feuilleton }
• The album covers archive
Previously on { feuilleton }
• Roger Dean: artist and designer