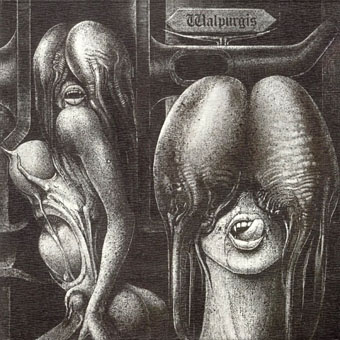 Walpurgis (1969) by The Shiver.
An inevitable follow-up to yesterday's post, this continues an occasional look at album cover art by people better known for their work elsewhere. Giger's album covers fall into two categories: those with some direct involvement from the artist and those which are merely reuses of pre-existing paintings. The former category is the one that's of concern here.
The Shiver were a German Swiss group who Discogs label as "Krautrock", a term with an unfortunate tendency these days to get attached to any German music that isn't James Last. From what I've heard the group are a lot more ordinary than that, doing the kind of late psychedelic/early progressive rock common to many European bands in 1969.
Update: Further research reveals that The Shiver were Swiss, not German as they're listed at Discogs. They evolved later into Island (see below) which explains why both groups released albums bearing Giger cover art.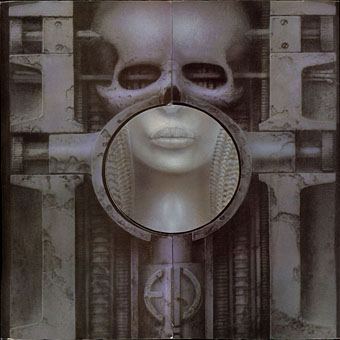 Brain Salad Surgery (1973) by Emerson, Lake & Palmer.
And speaking of prog… I've always loved the cover for this album which in its vinyl edition opens out to reveal the spectral woman beneath. The female face is named Isis on a poster I still have somewhere. Despite liking the cover I never really liked ELP so this is one album of the period I've yet to hear.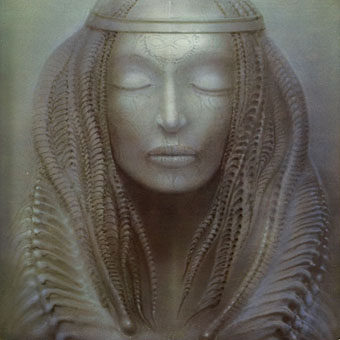 Brain Salad Surgery interior.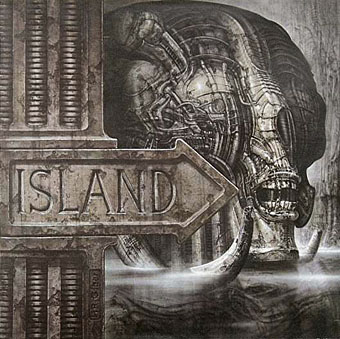 Pictures (1977) by Island.
And yet more prog… Island were a Swiss group. The cover painting is Necronom IIIa (1976) with some Giger lettering added.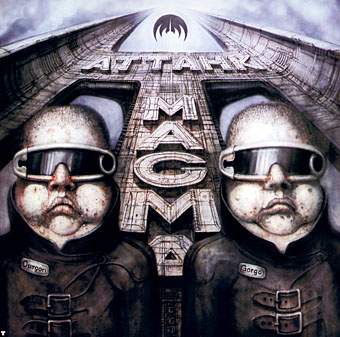 Attahk (1978) by Magma.
Magma are (of course) Christian Vander's ongoing jazz/prog/opera/Zeuhl/sf/freakout music project. Giger declares a taste for jazz and jazz rock in one of his books so I imagine this commission would have appealed more than others, Magma's approach to jazz having an apocalyptic tendency. Track titles like Liriïk Necronomicus Kanht (In Which Our Heroes Ourgon & Gorgo Meet) wouldn't have done much harm either. The safety-pin sunglasses were inspired by the safety-pin fashions of punk.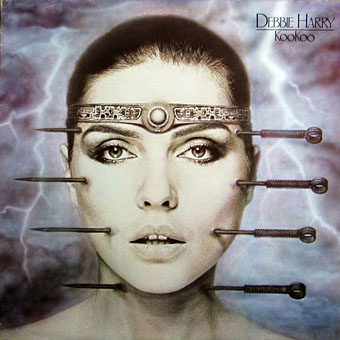 KooKoo (1981) by Debbie Harry.
And speaking of punk… Giger considered Debbie Harry to be "the Queen of the Punks" so he decided to pierce her face accordingly. The album isn't punk, however, it's a collection of smart and funky pop songs produced by Nile Rodgers & Bernard Edwards. Two singles from the album have Giger-directed videos, Backfired (which HRG also appears in), and Now I Know You Know which has Ms Harry posing against the Passagen paintings in a black wig and a biomechanical body stocking. There's more about the KooKoo album at the Giger site.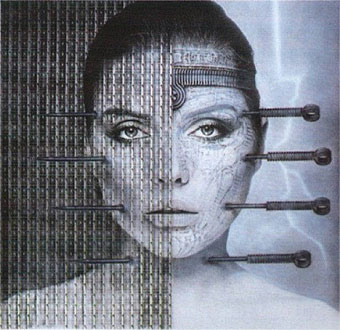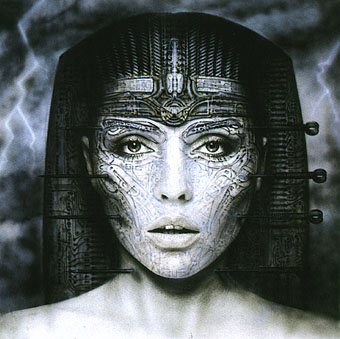 Elsewhere on { feuilleton }
• The album covers archive
Previously on { feuilleton }
• Giger's Necronomicon
• Dan O'Bannon, 1946–2009
• Alejandro Jodorowsky's Dune
• The monstrous tome