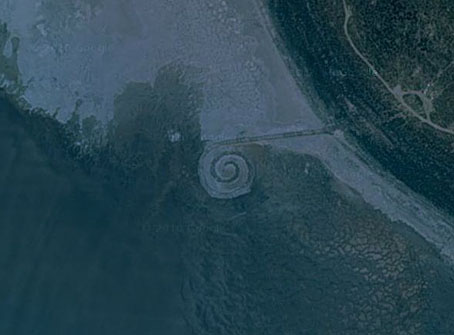 Spiral Jetty.
Reading this story about an ownership dispute over Robert Smithson's Spiral Jetty in Utah had me searching out his celebrated artwork on Google Maps. It's easy to find since Google have many of the well-known pieces of 1970s land art marked on their satellite views. Having found Smithson's construction I went looking for a few more.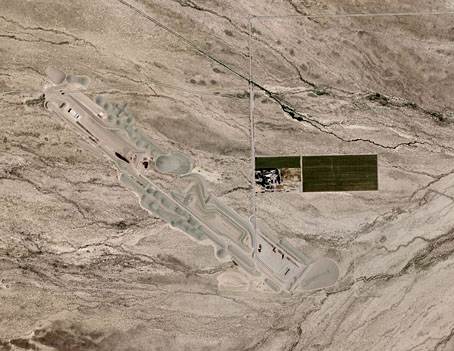 City.
Less easy to find, since it's not marked and the artist forbids visitors, is Michael Heizer's enormous and enigmatic City, an earthwork complex he's been constructing in the Nevada desert since the early 70s. From the air it looks like a secret military base, the art area being the diagonal arrangement of structures on this view while the squares to the right are the artist's home. I've been fascinated by this creation ever since a part of it, Complex One, was featured in Robert Hughes's The Shock of the New, not least for Hughes's assertion that these remote works impel an act of pilgrimage on any would-be visitors. This page has more about City and some of the few photos which have been released of its structures. See also A Sculptor's Colossus of the Desert and Art's Last, Lonely Cowboy.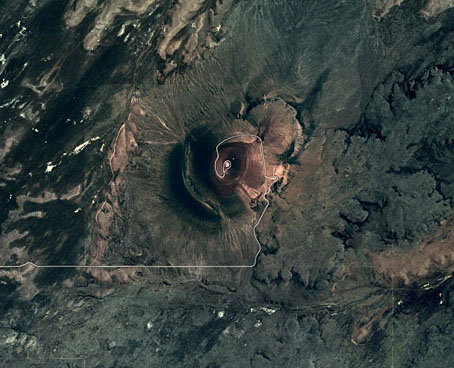 Roden Crater.
Equally remote, and for the time being inaccessible to the public, is James Turrell's Roden Crater in Arizona, an extinct volcano which Turrell has been converting into an enormous viewing space for astronomical events and the transitory effects of natural light. This was begun in 1978 and seems like it may actually get finished, unlike Heizer's construction site. This NYT article discusses the work's history while Paul Schütze has recent photos of site details as well as a free download of some of the music he's composed for the interior.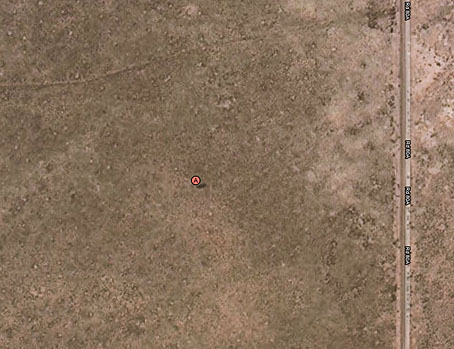 Lightning Field.
On a different scale altogether, and not at all visible from the air, Walter De Maria's Lightning Field is 400 stainless-steel poles placed in a grid formation in a New Mexico field. The presence of the rods is intended to draw lightning from passing storms, an effect which results in spectacular photographs. The pilgrimage concept operates here as well; this blog post is a detailed account of a visit to the area.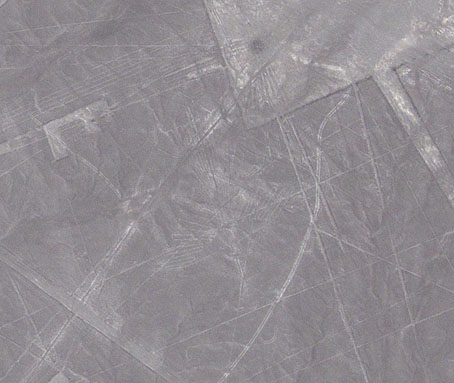 Nazca Lines.
North America has a few other land art sites, details of which can be found here. I left those for a look at something bigger than all of them, the Nazca Lines on the Nazca Plateau in Peru. When it comes to big gestures, the South Americans are still the ones to beat.
Previously on { feuilleton }
• The art of Jim Denevan
• The Underwater Sculpture Gallery