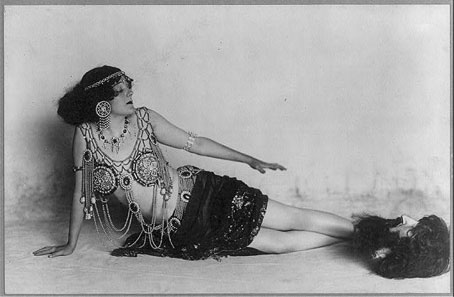 Gertrude Hoffmann dressed for her opera role as Salome (1908).
Continuing an occasional series. Some people may be surprised to hear that Al Pacino loves Oscar Wilde's Salome. He acted in a stage version of the drama in 1992 playing Herod to Sheryl Lee's Salome (the Godfather versus Laura Palmer), and in 2006 announced an intention to make a drama documentary about the play. He talks about his interest in Wilde's work here. IMDB currently has a page showing a 2011 release for Wilde Salome by Al Pacino but the film's release has already been subject to delays. Related: Clive Barker's Salome from 1973; Derek Jarman meets Hammer Horror.
• A post from last year that I should have linked to a lot earlier: A Wilde Library at Little Augury, being a detailed exploration of Wilde's Tite Street furnishings and interior decoration.
• Oscar Wilde at Tumblr: Oscar Fingal O'Flahertie Wills Wilde and Oscar Wilde Assembly. Then there's Youth is wasted on the young, a charmingly obsessive Dorian Gray blog.
• Actor Brian Bedford (again) is interviewed by Kevin Sessums about playing Lady Bracknell in a New York production of The Importance of Being Earnest.
• What Oscar Wilde could teach us about art criticism by Jed Perl.
• Oscar Wilde, classics scholar by Daniel Mendelsohn.
• Scarlet letters lift the lid on Wilde's dalliances.
Elsewhere on { feuilleton }
• The Oscar Wilde archive