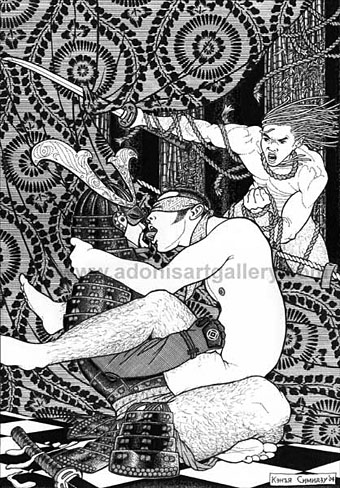 Kiss of Death (2007).
From a series of marvellous homoerotic ink drawings by Kenya Shimizu. The artist seems to have no web presence at all, unfortunately, aside from three pages of work for sale at London's Adonis Art Gallery. Most of the pictures there are hardcore images so if you don't want to see any of that, don't look. His paintings are as good as his drawings but I typically prefer the black and white work, especially since there's a slight Beardsleyesque feel to some of them—or is it merely the Japanese line which Beardsley borrowed? Nice to see a variety of cum shots as well; the first drawing in the Samurai series, Release, is even a bukkake scene, something you rarely see in gay art.
Kenya Shimizu was born in Fukui Prefecture in Japan, 1976. Kenya Shimizu devoted himself early on to mastering the techniques of his art.  His homo-erotic fantasies (pen and ink) – very much in the Japanese erotic tradition – are brilliant compositions executed with panache and great skill.  His paintings on gold and silver leaf, are masterpieces of watercolour workmanship;  His watercolours of modern Japan – reveal and portray the present-day homo-erotic fantasies of the 'salarymen' and students of today's Japan.

Within recent years, one of the leading Japanese practitioners of homo-erotic painting – Sadao Hasegawa – sadly died.  Now a worthy successor has come onto the scene.
Elsewhere on { feuilleton }
• The gay artists archive
Previously on { feuilleton }
• The art of Sadao Hasegawa, 1945–1999
• The art of Takato Yamamoto
• The art of ejaculation