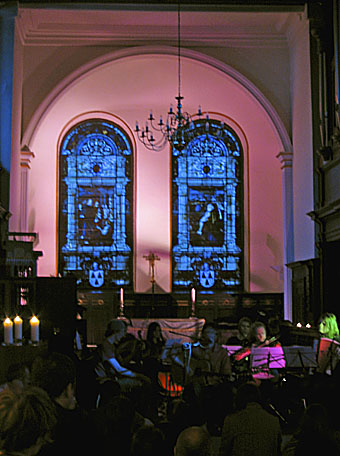 Sam and ensemble.
"Bedroom Community, possibly the best label in the world right now" was my earnest declaration back in March after seeing Sam Amidon play for the first time. A few months earlier I'd put Valgeir Sigurðsson's Ekvílibríum album on my best of 2007 list for Arthur magazine. Tonight's event at Trinity Church confirmed that judgement with another great performance of songs from All Is Well by Sam, followed by a set from his Icelandic composer/producer colleague. Support for the evening was from Manchester's own Denis Jones and a display of his one-man house of cards conjuring with samples and guitar.
Sam Amidon's set this time lacked some of the stunning impact of the earlier gig but that's only because the thrill of seeing him for the first time can't be repeated. If anything the performances were better this time round, not least because there were more string players there to do justice to Nico Muhly's marvellous arrangements; Little Satchel especially benefited. Valgeir Sigurðsson (who produced All Is Well) helped out in the background then Sam returned the favour for Valgeir's set, including singing one of the songs from Ekvílibríum. This easy swapping of roles is one of the things which makes Bedroom Community such a fascinating label; Valgeir produces, everyone plays on everyone else's albums. All the people involved (Nico Muhly and Ben Frost make up the creative quartet) are highly distinctive and bring a considerable authority to their work. Most of Valgeir's set this evening was instrumental (there are four songs on the album) and I missed Dawn McCarthy's vocal on Winter Sleep but the vocal-less rendition gave an opportunity to hear the breadth of the arrangement. The BC site credits the other Icelandic musicians as Una Sveinbjarnardóttir on violin/mandolin, Sigríður Sunna Reynisdóttir on accordion/electric piano and Rebekka Bryndís Björnsdóttir on bassoon/cello.
"Bedroom community" is a euphemism for a suburb or dormitory town, as well as (in the case of the label) a play on the idea of the bedroom musician. Ignore the usual negative connotations of suburbs and think of this community as being one away from the decaying centre and the increasingly desperate frenzy of the mainstream. Back in the late Seventies Robert Fripp was presciently declaring the age of the music dinosaurs over, saying "In the new world the characteristic unit will be small, highly mobile, independent and intelligent." Bedroom Community, its artists and its ethos, is precisely what he was talking about. We need more like them.
Previously on { feuilleton }
• God only knows
• Sam Amidon in Manchester