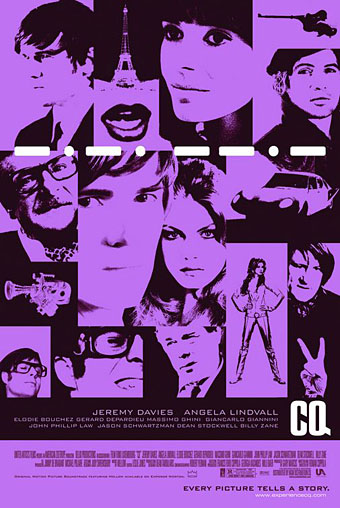 A belated shout of appreciation for this film whose distribution appears to have been so limited that everyone missed it, me included. That's a shame as Roman Coppola's debut (he's the son of Francis) has a lot to commend it although it helps if you're familiar with pulpy European spy/science fiction/horror movies of the late Sixties and the po-faced works of auteurs such as Jean-Luc Godard and Michelangelo Antonioni. CQ pays loving homage to both styles of filmmaking which probably explains why the studio didn't know what to do with it.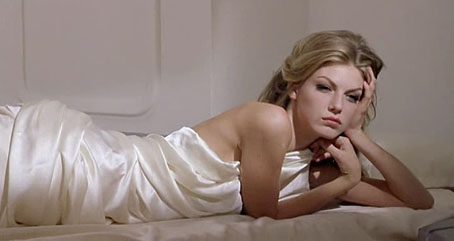 Angela Lindvall pouts after a rude awakening.
Jeremy Davies plays Paul Ballard, an American working as a film editor in Paris for a Dino de Laurentis-type producer whose latest opus, Codename Dragonfly has become a troubled production. Paul has been trying to make an autobiographical film of his own which collapses when his girlfriend leaves him and he winds up becoming director of the Dragonfly film instead. Much of the humour and pleasure of the film comes from the disparity between the two opposed film styles. Paul's film is all 16mm black & white close-ups of himself and his apartment; Codename Dragonfly is a melange of riffs on Danger Diabolik, Barbarella and Modesty Blaise with some explicit homage to the first two in the presence of John Phillip Law.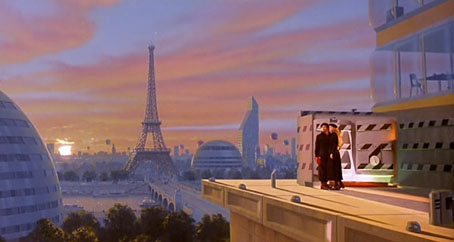 Paris, 2001!

The silly Sixties grooviness is great fun, with pitch-perfect design from Coppola Snr.'s long-time production designer Dean Tavoularis (and I can think of two people at least who'd love the thigh-length boots in the party scene). The Paris where super-heroine Dragonfly lives in the faraway future of 2001 has been refashioned with Archigram-style bubble buildings and monorails, the only recognisable landmark being the Eiffel Tower which serves as the landing platform for Dragonfly's spaceship. That vehicle is essential for her mission to combat Billy Zane's revolutionaries—their plan for the world: "Make love, all day, every day"—who are hiding out on the moon. Back on earth she drives a futuristic E-type Jag in another nod to Diabolik.
Angela Lindvall plays Dragonfly, managing to look both vulnerable and human off-set while being a perfect jump-suited supervixen in front of the camera. Roger Vadim would manoeuvre her into his boudoir in a trice. French lounge band Mellow provide a very accurate period score and, continuing the Coppola clan tradition, Sofia Coppola puts in a cameo appearance while cousin Jason Schartzman plays a hack horror director.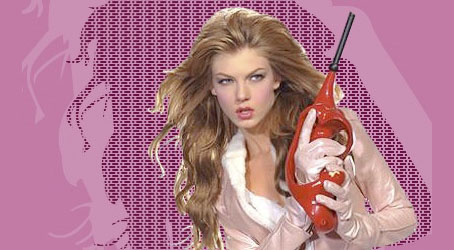 Coppola Jnr. has his cake and eats it, sending up the inanities of caper movies and trashy horror as well as celebrating their fun. CQ isn't a masterpiece but it certainly didn't deserve to be buried the way it was so it's encouraging to see it gaining recognition now it's on DVD. The film website is still active and includes a pressbook PDF you can download featuring another homage to the film's pulp origins: two pages of a beautifully accurate Dragonfly comic strip.
Previously on { feuilleton }
• Danger Diabolik