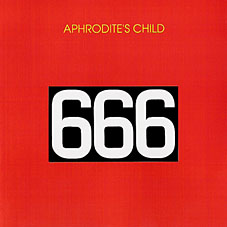 The oft-despised concept album of the 1970s doesn't come more demented than 666, a double disc set by Greek group Aphrodite's Child released in 1972. The group featured Vangelis and Demis Roussos among their number (Roussos later turned up on Vangelis's score for Blade Runner) and this is about the only thing they're now remembered for, a post-psychedelic fantasy based on the Book of Revelations. So far, so heavy. Searching for information about the album turned up a proposal by Salvador Dalí for a celebratory "happening" to be staged in Barcelona for the album's world premiere (lyricist Costas Ferris having met Dalí in Paris shortly after the recording):
The main concept:

1. Martial Law shall be ordered on a Sunday, in Barcelona. No one shall be allowed to walk in the streets, or watch the event. No cameras, no TV. Only a young couple of shepherds will have the privilege to witness the event. So, they can later describe it to the people, by oral speech.

2. Giant loudspeakers shall be put in the streets, playing all day the work 666, by Vangelis, Ferris and the Aphrodite's Child. No live performance.

3. Soldiers dressed in Nazi uniforms, will walk in military march in the streets of Barcelona, arresting who-ever wants to break the law.

4. Hundreds of swans will be left to move in front of the Sagrada Famiglia, with pieces of dynamite in their bellies, which will explode in slow motion by special effects. (real living swans, that should be operated for putting the dynamite inside their belly).

5. Giant Navy planes, will fly all day in the sky of Barcelona, provoking big noise.

6. At 12:00 sharp, in the mid-day, those planes will start the bombardment of the great church, throwing all of their munitions.

7. Instead of bombs, they shall throw Elephants, Hippopotami, Whales and Archbishops carrying umbrellas.
No, it didn't happen, but if you do hear the album try and think of swans exploding in slow motion while elephants and archbishops rain down from the sky.
Previously on { feuilleton }
• The apocalyptic art of Francis Danby
• The music of Igor Wakhévitch
• Dalí Atomicus