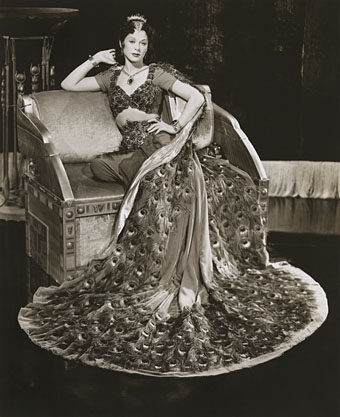 Hedy Lamarr strikes a pose in a peacock dress for Samson and Deliah (1949), one of Hollywood's many tiresome Biblical epics. If the photo isn't just a promo shot and Hedy appears wearing this it's no doubt a highlight but it's so long since I saw the film the only thing I remember is Victor Mature bringing down the temple at the end. Ms Lamarr's outfit wasn't the first of its kind, of course, the examples below from dancer Ruth St Denis and film star Betty Blythe have appeared here before, but Hedy's dress is a lot more extravagant; Aubrey Beardsley would have loved it. I might have said it was the most extravagant but that honour should go to a Chinese wedding dress made of 2,009 peacock feathers which was unveiled last year. Impressive if completely impractical.
Thanks to Thom for the Hedy tip!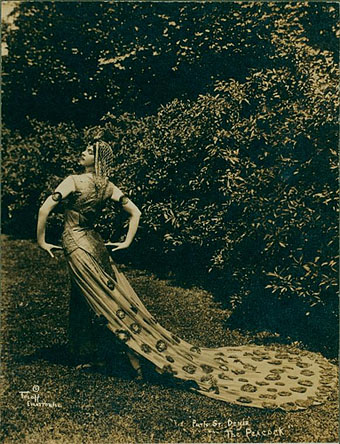 Ruth St Denis—The Peacock.
Betty Blythe.
Previously on { feuilleton }
• Betty Blythe
• Ruth St Denis
• The Feminine Sphinx
• Alla Nazimova's Salomé