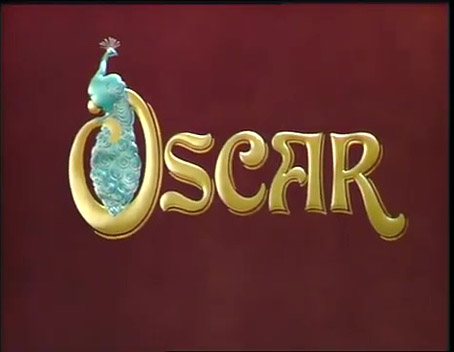 I've mentioned John Hawkesworth's three-hour television biography of Oscar Wilde in previous Wilde-related posts, but was never able to point to a viewable copy until now. Oscar was broadcast by the BBC in three parts in 1985, and if it was ever shown again I don't recall it; I certainly missed capturing it on tape. This was frustrating because I always remembered Michael Gambon's portrayal of Wilde as being the best I'd seen, but the only reissues for home viewing were long-deleted tapes and discs produced for other countries. Having watched the drama again I'm pleased to find it as good as I remembered, possibly more so since I've read a several Wilde biographies in the interim so I'm better able to judge its accuracy.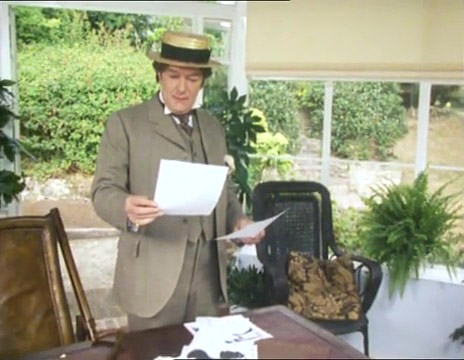 Oscar examining Aubrey Beardsley's Salomé illustrations.
As a writer and TV producer John Hawkesworth specialised in period drama, creating and writing episodes for The Duchess of Duke Street, Danger UXB (about wartime bomb disposal), and the celebrated Granada TV Sherlock Holmes series featuring Jeremy Brett's definitive portrayal of the detective. Oscar was based on biographical books by H. Montgomery Hyde, an MP who lost his seat for his campaigns in the late 1950s and 1960s against the British laws forbidding homosexual acts. Knowing this it's significant that Hawkesworth's opening scene in the first episode is a brief parliamentary discussion about the notorious Labouchere Amendment of 1885 ("The Blackmailer's Charter") which the narrator informs us would send Oscar Wilde to prison ten years later. Hawkesworth divides his drama into three distinct phases: Gilded Youth (concerning Wilde's relationship with Alfred Douglas, his artistic success and the ire of the Marquess of Queensberry); Trials (the personal as well as legal variety); and De Profundis (imprisonment and its aftermath).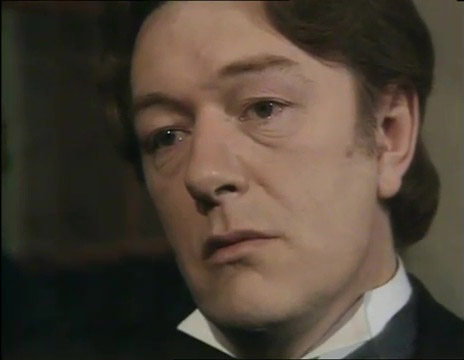 In the dock at the Old Bailey.
The arc of tragedy is a familiar one, of course, but other dramatisations are seldom as well-balanced as here. Feature films about Oscar Wilde generally have shorter running times so devote their larger budgets to a recreation of the glamorous fin-de-siècle rise and the terrible downfall. Oscar is a typical BBC production of the period, mostly recorded on video in studio sets with occasional film work for exteriors. What we see of Victorian London appears sparse compared to the Sherlock Holmes episodes which were being filmed at this time. Hawkesworth may have been restricted by budget but three hours allows him to pay greater attention to the later episodes, especially the courtroom scenes. Oscar was the first screen biography to include the discussion of sexual details during the trial, as well as to show Wilde alone with a naked boy. This was a considerable advance at a time when gay sex of any kind was a rare sight on British television, and when even the straight variety could cause problems, as it did for Gambon and co. a year later when Dennis Potter's The Singing Detective inspired the contemptible Mary Whitehouse to complain to the BBC. Hawkesworth also runs through the later years to the very end, a period of decline usually avoided or, as in Brian Gilbert's Wilde (1997), disingenuously truncated so as to provide a "happy" resolution. Given this, I would have preferred some of the earlier scenes to be longer and to offer a sense of Wilde's status as a serious thinker about art and aesthetics. Wilde's flamboyant persona made him famous but he was influential not for his dandyish manner but for his ideas and their articulation in essays, lectures and the plays; his aesthetic theories were the foundation of all his writing. The most famous line from his final poem is a statement of philosophic principle: "Yet each man kills the thing he loves".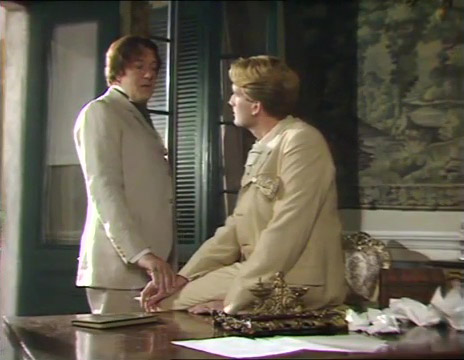 Oscar and Bosie.
Aesthetics aside, the public perception of Oscar Wilde presents a hurdle for dramatisations which risk resurrecting the caricatures that flourished while Wilde was alive. Michael Gambon's performance shows Wilde as a human being, not merely a charming dispenser of witty aphorisms. This has always seemed to me crucial for any actor; it's not enough to merely look like Wilde—as Robert Morley and Stephen Fry did—but you have to be able to convey the horrors, the indignity (and, with regard to his wife, the culpability) of his later years. Stephen Fry is a good comic actor but he never could have played the Singing Detective. Gambon's seductively purring voice is another plus, and he even allows a hint Irish brogue to slip through now and then. Of the other actors, Robin Lermitte looks more like Alfred Douglas than does Jude Law in Brian Gilbert's film, but Law is better at conveying Bosie's mercurial and tempestuous character; likewise Tom Wilkinson made the Marquess of Queensbury seem a little more human in Gilbert's version, at least in the beginning, whereas Norman Rodway presents the man from the outset as a perpetually furious goblin. Missing from Hawkesworth's drama are Wilde's good friend Ada Leverson, and his mother, Speranza, whose urging him to stand tall and remain in England when the police were coming for him was one of the factors that sealed his fate.
Oscar may be seen here: Part One | Part Two | Part Three
For now, and possibly the foreseeable future, this is the only way to see this drama so I'd suggest downloading it if you can. It's a rare work that could easily vanish once again.
Elsewhere on { feuilleton }
• The Oscar Wilde archive
Previously on { feuilleton }
• The Importance of Being Oscar