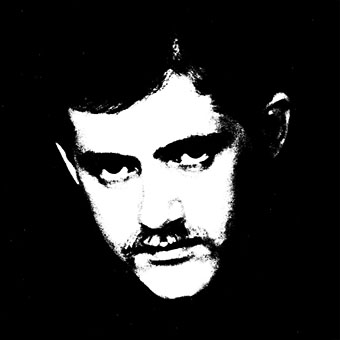 School Daze sleeve designed by Eloise Leigh.
Music made for porn films is nothing if not derivative and unmemorable, assuming it's been specially made at all and isn't merely a cheap library track, the aural equivalent of stock footage. This wasn't necessarily the case when porn cinema was getting established in the America of the 1970s but a huge turnover of anonymous product combined with simple expediency—hours of footage that needed to be soundtracked by something—made falling standards inevitable. The cliché of the cheesy porn soundtrack is such a given that it's a surprise to encounter anything which is even halfway listenable away from the screen. In the case of this album by Patrick Cowley it's even more of a surprise to find that such exceptional music has been hiding for years on a couple of gay porn films, School Daze and Muscle Up, from 1980.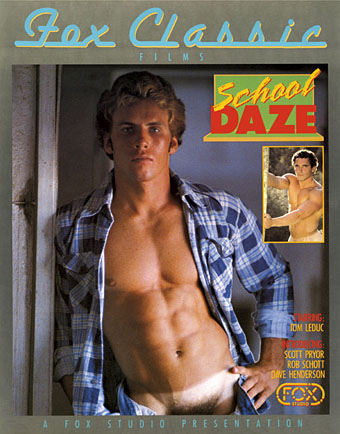 Gay porn would seem the perfect thing to be soundtracked by the creator of an unashamed anthem like Menergy (1981) but the music on School Daze bears little resemblance to Cowley's Hi-NRG disco hits, not least because some of the tracks were composed as far back as 1973 when Cowley was still in college. The tapes were unreleased until John Coletti, the owner of Fox Studios, asked Cowley for some music which is how these early experiments ended up as porn scores. Experiments they may be, in differing moods and styles, but they're also very successful ones. Jorge Socarras's album notes describe Cowley's wide-ranging musical (and sexual) tastes which would explain why one of the longer tracks, Journey Home, features a didgeridoo of all things. The didgeridoo sound became a considerable dance music cliché in the early 90s but prior to this you'd only find it outside Indigenous Australian music on pastiche numbers such as Flying Doctor by Hawklords or The Dreaming by Kate Bush; Cowley uses the instrument as simply another sound source. Socarras also mentions Cowley listening to Tomita and Wendy Carlos while in college but none of the music here sounds anything like the earlier generation of Moog composers; it also doesn't sound much like Tangerine Dream or anything that was happening in Europe during the 1970s. If anything, the subdued and often dark atmosphere is a better fit with the post-punk music being produced in Britain around the time the films were released, sombre albums like The Bridge by Thomas Leer & Robert Rental, or instrumental tracks by The Human League. Didgeridoo or not, some of the tracks are surprisingly gloomy for porn music.
In the autumn of 1982 I was in the process of moving from Blackpool to Manchester, and spent a lot of time shuttling back and forth on coaches listening to tapes on a cheap Walkman clone. A couple of those journeys were soundtracked by Patrick Cowley's extended remix of I Feel Love by Donna Summer and Industrial Muzac by Throbbing Gristle, a piece of subdued electronica which has been out of circulation for far too long. The music on School Daze fills an unlikely space between the two, there's even a synth solo like the one that erupts into the Donna Summer remix. Patrick Cowley died in November of that year, one of the earliest victims of a disease which at that time wasn't even called AIDS. Listening to School Daze, and to the last album released while he was alive, Mind Warp, you can't help but wonder what he might have done with the sampling technology that became widespread a couple of years later.
School Daze is available on double-vinyl and CD from Dark Entries who say all proceeds from the album will be donated to Project Open Hand and the AIDS Housing Alliance.
• Nightcrawler from School Daze
• Mockingbird Dream from School Daze
• Dark Entries interviews John Coletti of Fox Studio
• Five Things You Need to Know about Gay Electronic Wizard Patrick Cowley
Previously on { feuilleton }
• William E. Jones on Fred Halsted
• Summer of Love
• A Clockwork Orange: The Complete Original Score