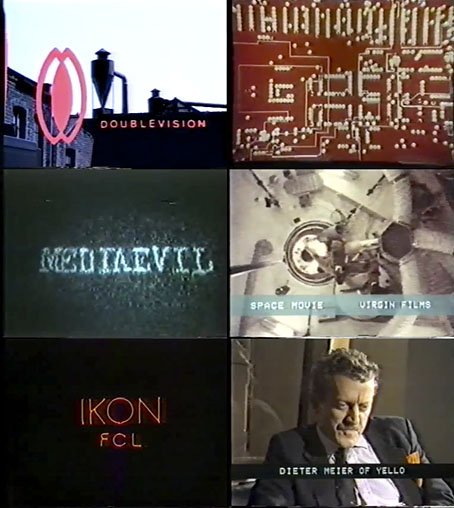 TV Wipeout, as detailed in an earlier post, was a one-off "video magazine" compiled and released on VHS by Cabaret Voltaire in 1984. This was the fourth title on the Cab's own Doublevision label which was easily the best of the UK's independent video labels at the time. Many of the other Doublevision releases have either been reissued on DVD or can be found online but TV Wipeout has remained elusive, in part because it contains material that would offend YouTube's copyright restrictions. Cabaret Voltaire's deal with Virgin Records enabled them to pad the running time with music promos and trailers for some of the films on Virgin's own video label.
Back in 2012 I was able to find some of the more popular items but not the obscurities, a situation that's now resolved by this YouTube playlist which has uploaded the entire cassette as a series of separate items. Most of the previously missing pieces will only be of interest to completists—some of them are scratch-video creations that look very dated today—but if you're like me, and have waited over 30 years to see this thing in its entirety, it means your curiosity can now be assuaged. A couple of items by Cabaret Voltaire and Japan are still missing but they're easily found elsewhere.
Update: As noted in the comments, the Japan clip was missing due to an oversight, and is now in place. I'm still getting a message saying the Cabaret Voltaire video is "blocked in your country on copyright grounds" so that must be UK-specific.
Previously on { feuilleton }
• Cabaret Voltaire on La Edad de Oro, 1983
• Doublevision Presents Cabaret Voltaire
• Just the ticket: Cabaret Voltaire
• European Rendezvous by CTI
• TV Wipeout
• Seven Songs by 23 Skidoo
• Elemental 7 by CTI
• The Crackdown by Cabaret Voltaire
• Network 21 TV