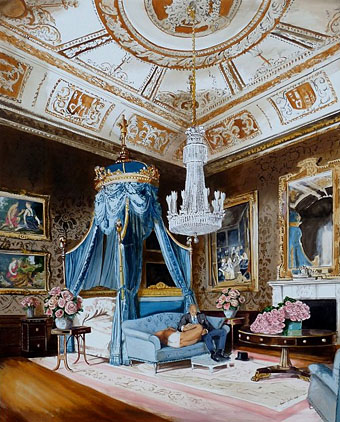 Acrílico sobre tela (My Other Self, 2009).
Back in 2010 I wrote the following about Ignacio Goitia:
Ignacio Goitia is a Spanish artist whose depictions of opulent aristocracy manage to be subversively homoerotic thanks to the addition of figures we can interpret as boyfriends, sex slaves or wish-fulfilling phantasms; Ludwig II would no doubt approve of the sentiment even if he disagreed with some of the decor.
Earlier this year John Wisniewski sent me a short interview he'd done with Mr Goitia which I'm ashamed to say it's taken me this long to post. My apologies to John and Ignacio. (I'd have been tempted to ask what's with all the giraffes?)
*
John Wisniewski: When did you begin drawing and painting?
Ignacio Goitia: I have always, since I can recall, loved drawing and painting. When I was a child, I would spend endless hours with my colour paints, and as soon as I was able, I enrolled myself to different art schools and academies.
Later on I got accepted in the Superior Beaux Art faculty at the University of the Basque Country in Bilbao. Since I finished those five years of University, this is all I have been doing, paint.
JW: When was your first art exhibition? What was the reaction to your work?
IG: Since my first exhibition, the public reaction to my work, has been in general, very positive, although, there is always the sceptics, that relate modernity with abstraction and minimalism, conceptualism… Despite this, with the passing of the years, my work has gained many followers in those circles. In all my exhibits the amount of people that has made an effort to visit them, its been quite large.
JW: What inspires you to paint or draw? How do you choose a subject?
IG: My first source of inspiration are my travels. I find it photographing the buildings, monuments, streets and people that catch my attention. I am passionate about architecture, and love discovering in it, the evolution of human thought.
Once in my studio, I select the sceneries that better adapt to the concept that I wish to express. After that, I start introducing the people and subjects, distributing them in the different spaces, until I get the adequate composition that better express my thought. This work of preparation and distribution, is a process that takes several days.
JW: Do you hope to exhibit your work in the USA at sometime? What do you think the reception will be for your work in the USA?
IG: I have exhibited during Art Basel Week in the HACS gallery in Miami in the Year 2007 and 2008. The reception was very good.
I am also participating with a good chance in the Creatives Rising project with See Me and will be featured in the digital projections over facades in NYC next October. We are in the process for an exhibit in Miami and NYC in the near future. Most of the people that I have been dealing in the USA are having a very positive and enthusiastic response.
JW: How is your painting uniquely Spanish and how is it universal?
IG: I think being born in Spain and specifically in the Basque Country has influenced in some of my work, but is something that is not in the back of my mind, and it is not a source of thought when I paint. The scenarios that I create are inspired in many places around the world, and the subjects could belong to different nationalities.
It's also true, that I have also use as backdrop, cities like Bilbao or Madrid, and there are blinks of folklore and culture belonging to the Basque country or Spain, and I introduce them in some of my work, but not often. I consider my paintings something less related to a particular culture, or universal, there are something more personal and an individual thought on how I see the world, as a result of my own interests and ideas. •
Elsewhere on { feuilleton }
• The gay artists archive