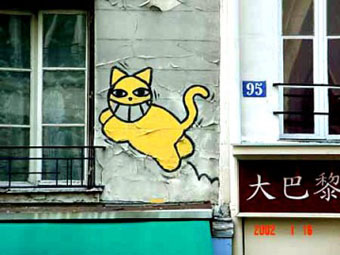 Who or what is the mysterious, grinning yellow cat? Wikipedia explains:
M. Chat (also known as Monsieur Chat and Mr Chat) is the name of a graffiti cat that appeared in Paris and other European cities in the months and years following the 9/11 terrorist attacks. The graffiti appeared most frequently on chimneys, but has been sighted in other places such as train platforms as well. It has also made appearances at political rallies. The originator of the street art remains anonymous.

The yellow cartoon cat is characterized by its large Cheshire Cat grin. The cat is most often portrayed in a running pose, but has also been variously depicted waving signal flags, bouncing on a ball, sporting angel wings, and waving in greeting at the entrance to a train station. It is sometimes accompanied by the tagline M. CHAT in small letters.
A shame I didn't discover this phenomenon before I went to Paris last year, the city is cluttered with reproductions of Théophile Steinlen's Chat Noir poster so it would have been fun to look for a more subversive animal. I found the wary creature below near the gardening market on the Ile de la Cité.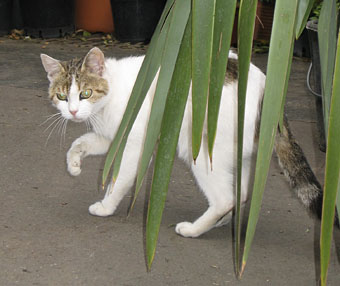 French filmmaker Chris Marker is famously a feline aficionado so it's no surprise that he's made a documentary entitled The Case of the Grinning Cat (Chats perchés) examining the appearance of M Chat through the twin lenses of his video camera and his political concerns. A French site, Monsieur Chat (et autres…), similarly documents occurrences of the mysterious animal and this is their page about Marker's film. Finally, there's a Flickr pool although with fewer photographs than one might hope.
Via City of Sound.
Update: Monsieur Chat's creator revealed (in French).
Previously on { feuilleton }
• Sans Soleil