Los Angeles, despite being the City of Angels, has few angels on display outside its cemeteries, whereas European cities are full of them. These are some of the ones that caught my attention in Paris this year.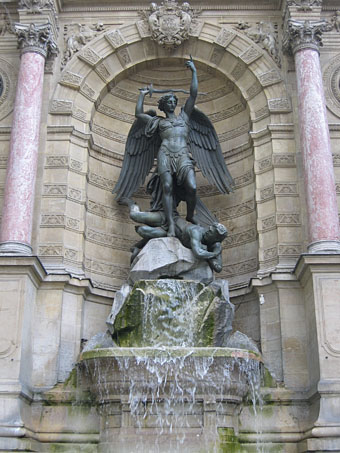 Saint Michael (1860) by Francisque-Joseph Duret in the Place Saint-Michel.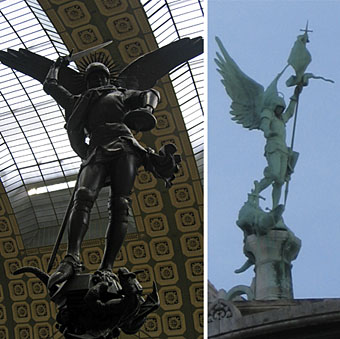 More statues of Saint Michael. The one on the left is by Emmanuel Frémiet (1897), in the Musée D'Orsay. On the right is a detail from the roof of the Sacre Coeur.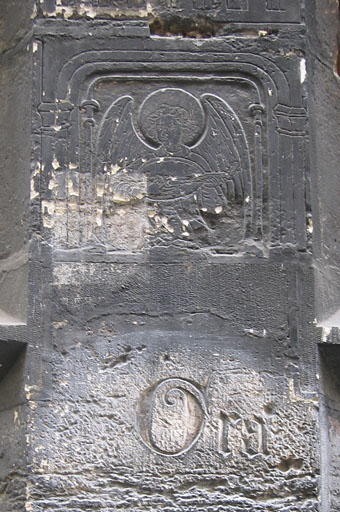 Another detail, from the carved walls of the house of alchemist Nicholas Flamel in the rue de Montmorency. A very old building, dating from 1407.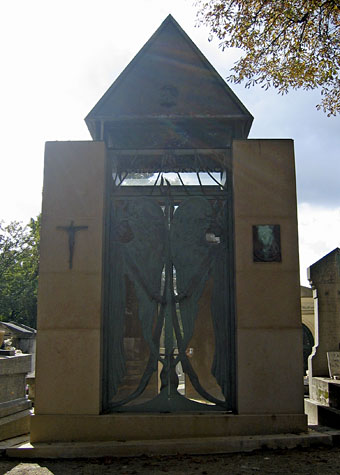 Père Lachaise cemetery is full of statues but these tend to be of the famous occupants rather than the usual funerary architecture. The tomb above was a rare modern construction in the middle of an avenue of older monuments. Below is Jacob Epstein's famous statue for the grave of Oscar Wilde (from 1911), now permanently covered in graffiti and blotches of lipstick. (Epstein later created his own Saint Michael for the reconstructed Coventry Cathedral.) Oscar would be flattered by the continual attention but I doubt he'd appreciate people showing their respect in this way.
Previously on { feuilleton }
• Frémiet's Lizard