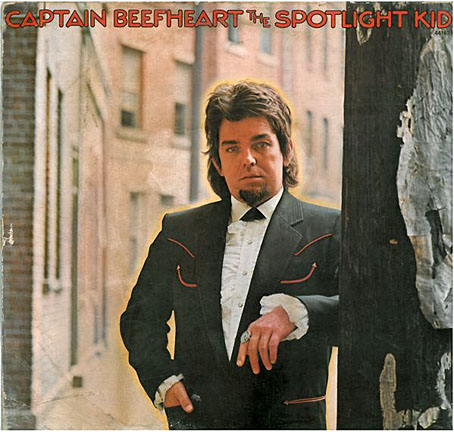 Photography & design by Ed Thrasher.
So long, Spotlight Kid. This was only announced a few hours ago so you'll be hearing a lot more about Captain Beefheart this weekend.
What is there to say? I have all the albums and a lot of other stuff besides: rarities, outtakes, bootlegs and so on. Beefheart was sui generis and it's always seemed fitting that despite the myriad group names flying around in the 1960s he was the one who had the Magic Band. At their height all the implications of thaumaturgy and conjuration that label implies were fully justified. Trout Mask Replica, the non-Euclidean masterwork he cajoled the group into creating in 1969, still sounds like nothing else. The following are essential documents:
• Safe As Milk (1967)
• Strictly Personal (1968)
• Trout Mask Replica (1969)
• Lick My Decals Off, Baby (1970)
• Mirror Man (1971)
• The Spotlight Kid (1972)
• Clear Spot (1972)
• Shiny Beast (Bat Chain Puller) (1978)
• Doc At The Radar Station (1980)
• Ice Cream For Crow (1982)
• Grow Fins: Rarities (1999)
YouTube has plenty of Beefheart things worth seeing, of course. Best introduction is the BBC's 1997 documentary, The Artist Formerly Known As Captain Beefheart, narrated by John Peel. They opened that with the great film clip of the Magic Band playing Sure 'Nuff 'n' Yes I Do on the beach at Cannes in 1968. My favourite of all is probably the 1972 TV spot of them playing I'm Gonna Booglarize You Baby on Beat Club. Don Van Vliet may have died but Captain Beefheart lives on.