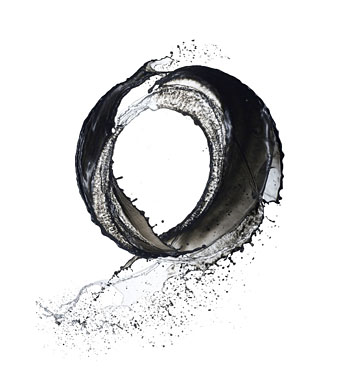 From the Kusho series by Shinichi Maruyama.
It was February 13th, 2006, when I sat down and wrote some words from Charles Fort—"One measures a circle, beginning anywhere"—as a title of the first post here. Ten years on, and the circle has turned ten times, or once if you're measuring in decades. This time last year I made the decision that when I reached the tenth anniversary I was going to reduce the activity a little. Writing a blog post on a different subject every single day of the week requires discipline even if it's your main line of work. This has never been my main line of work, but I've nonetheless managed to rack up 4,035 posts while juggling design and illustration work, and while (somehow) writing an as-yet-unpublished 217,000-word novel. When the workload has been heavy it's been a chore having to write another daily post yet the improvisational nature of the thing has always been fun. Writing something new every day puts you on the spot; it forces you to get your thoughts in order (or scale them back), and it also hones your writing skills. I don't know what I expected of this blog in 2006 but I'm fairly sure I didn't expect to be writing it daily for ten years. And yet here we are.
So with that said, I'm going to discontinue the daily posting for the time being although the weekend post will follow tomorrow as usual. One thing that's become apparent is that the first five years were easier than the second five because I seemed to have more time on my hands. The increased visibility of my work in recent years has meant that I've been more in demand, and I've been subject to increasing periods of all work and no play. When that happens, something has to give, and not having to write something here every single day will give me an hour (or more) free time each day. There will still be posts, of course: this forum is too useful to abandon, and on the work level alone I have some high-profile projects due out this year. I'd also like to be able to write longer posts from time to time. One hazard of the daily post is that longer pieces have to be written over several days while still writing a daily post as well.
My thanks, as always, to regular readers and commenters. Don't be alarmed by a few days' silence. Things will continue but at a slower pace.
John x