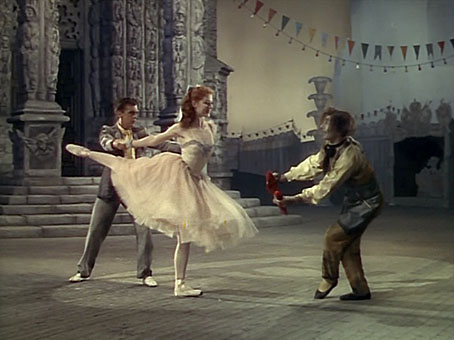 Robert Helpmann, Moira Shearer and Léonide Massine; The Red Shoes (1948).
Jack Cardiff, who died this week, was one of the great cinematographers from the postwar era, a period when British cinema was raised for a time to world-class level. His three films for the Archers, aka Michael Powell & Emeric Pressburger, are masterpieces of Technicolor photography. He won an Oscar for one of these, Black Narcissus, while his photography in The Red Shoes includes Moira Shearer's 18-minute ballet performance, one of the most strikingly surreal sequences in the whole of British film.
Cardiff taught himself about lighting from scrutinising the Old Masters and the Impressionists, and teaching himself to observe colour, shade and reflection in everyday things. "As they say, 'Love comes by looking', and I was looking all the time. That's how you learn." He picks up one of the dozens of books on Rembrandt that he owns and draws my attention to the exquisitely painted shadow of a nose in one of his favourite portraits. We look at the interiors of other Dutch masters – Pieter De Hooch, Vermeer. It was to the work of Vermeer that the starkly beautiful images of nuns he created for his Oscar-winning movie Black Narcissus (1947) were likened.

Elizabeth Lowenthal, The Independent, 1994.
Previously on { feuilleton }
• Deborah Kerr, 1921–2007
• Freddie Francis, 1917–2007